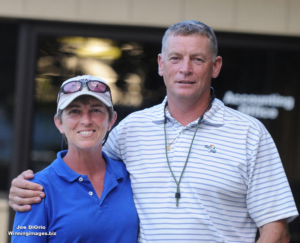 Ciaran and Amy Dunne launched Wavertree Stables in 1995 and in the ensuing decades, through commitment and attention to detail, the couple has built the Ocala-based operation into one of the country's pre-eminent breaking and training facilities.
A native of Kildare, Ciaran graduated from the Irish National Stud's prestigious Thoroughbred Breeding course before emigrating to the U.S. in 1987. He served stints at Kentucky's Margaux Farm and Glennwood Farm–where he met Amy, who was working as an exercise rider. The couple relocated to central Florida in 1994.
Perennially among the country's leading consignors of 2-year-olds, Wavertree Stables has been the nation's top seller by gross in 2012 through 2017. Among its many sale toppers, the operation sold Unbridled Slew for a record $2.5 million at the 2006 Barretts May sale. Other standout sales include the 2009 Fasig-Tipton Florida topper Al Zir (Gr.1 placed) who sold for $1.6 million, and subsequent Irish group winner Darwin, who was the most expensive 2-year-old of 2012 when selling at Fasig-Tipton for $1.3 million. More recently at the Fasig-Tipton Sale held at Gulfstream Park in March 2016, Wavertree Stables consigned a colt who sold for $1,000,000. The colt (who is the son of Curlin, two-time Horse of the Year) was the second horse to exceed the seven-figure threshold at that sale. Then again in 2017 Wavertree Stables sold a More Than Ready filly for $1 million at the OBS April Sale.
The stables at Wavertree are home to over 150 thoroughbreds, with a principal focus on yearlings to two-year-olds-in-training. Wavertree Stables has trained, by itself and in partnership.
Grade 1 winning millionaire Carless Jewel, three-time Grade 1 winner Devil May Care, Canadian champion Inglorious and Breeders' Cup champion Hightail. This year adding to the Graded Stakes roster is Stormy Liberal, Fast and Accurate and Run Away, as well as multiple Graded Stakes winner Frank Conversation. Another promising graduate from this spring's Wavertree Stables consignment is undefeated Graded Stakes winner The Tabulator.
Working with quality young horses is a dream come true for Ciaran. "It's what we all aspire to do in this business," he says. "Now that I'm surrounded by quality, there's nothing like it. All I've ever done is work with horses. This is a gift."
Wavertree, named for the English aristocrat who gifted the stud farm that eventually became the Irish National Stud to the government, is situated on 180-acres in the heart of Ocala's legendary horse country. Offering full-service breaking, training and sales representation, Wavertree features a one-mile dirt racetrack, a seven-eighths turf track and a 3/4-mile European gallop along with multiple turn out paddocks. Facilities also include a swimming pool, an aqua tread, and a cold therapy spa. Other therapies offered include Magnawave and Laser treatments, and a TheraPlate.